---
Amber Flynn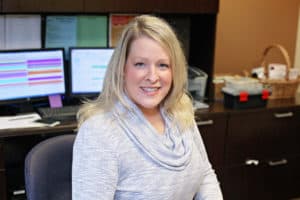 Amber grew up in Whitehall, MI and moved to the Fruitport area in 2001. Amber attended Muskegon Community College in high school and transferred to Central Michigan University where she received a Bachelors of Science in Physical Fitness for Preventative and Rehabilitative Programs and a second degree in Psychology. Amber performed an internship in cardiac rehabilitation and began work in the cardiac unit of Mercy Hospital. After graduating in 1998, Amber found her niche and began her career in weight management.
Amber has worked in hospital, retirement and community based wellness programs throughout her career. Amber believes in each persons ability to achieve great personal success, given the right tools in health and wellness education, motivation and opportunity. She feels strongly that exercise can fit everyones lifestyle, you may just need to make modifications.
Amber resides in Fruitport with her husband John and their two children. Amber enjoys tennis, walking, swimming and most of all spending time with family. Amber feels teaching children to be active at a young age is not only enjoyable and rewarding, but gives them a boost in the right direction for the future.
---
Andy Retberg, M.Ed.
Andy grew up in South Haven, MI and moved to the Grand Rapids area in 1995 to attend Grand Valley State University. Receiving his Bachelors of Science in Physical Education with an emphasis in Fitness and Wellness, Andy then completed a Masters of Education while working as a graduate assistant in the University's Health, Recreation and Wellness Department. He is also a Certified Health and Wellness Coach through the Wellcoaches corporation.
Andy has worked in both community and hospital based wellness programs throughout his career, though specializing in exercise and weight loss since 2005. Andy feels truly blessed to have the opportunity to be part of each patient's wellness journey. He believes exercise is a tool that not only assists in weight loss, but helps condition our body, allowing us do the things that bring joy and fulfillment to our lives.
Andy resides in Hudsonville with his wife Melanie and their three children, Emma, Lily, and Isaac. Andy is an avid runner, bicyclist, and off road motorcyclist, although his most cherished time is that spent with his family. They enjoy taking their black lab for walks, playing at the park, and spending time with friends and family.